Recently, the British Government passed the "Northern Ireland Troubles (Legacy and Reconciliation) Act." This legislation is nothing but a callous attempt to airbrush the role of the British Government during the conflict in Northern Ireland at the expense of the victims and their families. The bill will halt all criminal investigations court proceedings and give an amnesty for all crimes committed during the Northern Ireland conflict, even murder. Per legal scholars, this amnesty goes even further than the infamous amnesty of Dictator Pinochet. In historic unity, this act is rejected by all elements of Northern Ireland society, Unionist and Nationalist, Catholic and Protestant. Once again, England is making policy in Ireland without the Irish people's consent. In unilaterally changing the pursuit of justice for the legacy of the Troubles, the U.K. has broken its pledged commitments under the Good Friday, St. Andrew's, and Stormont agreements.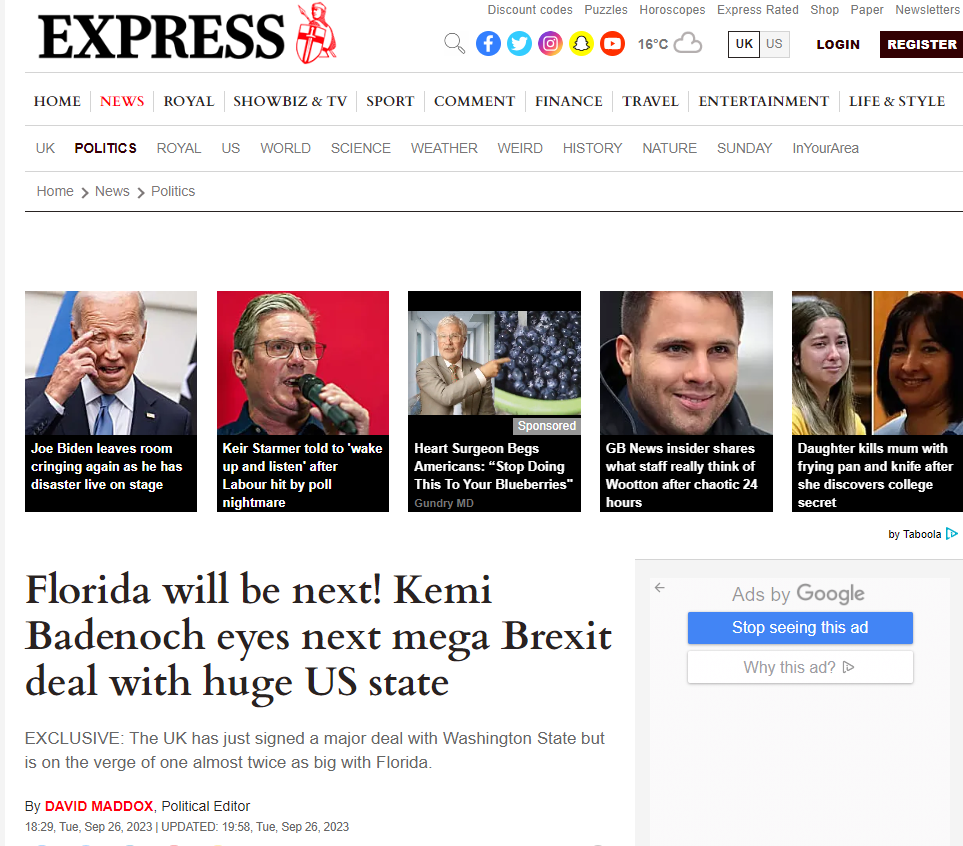 The British Government has been anxious to sign a trade deal with the United States since BREXIT; the fact that the British Government has not been able to do so has embarrassed them.
Having been frustrated in getting an actual national trade deal, the British Government has embarked on a new marketing strategy: getting what it is marketing as "trade deals" with individual states. Now, these "trade deals" are more "memorandums of understanding" (Article I, Section 10 of the Constitution prohibits states from making independent trade deals). This is a cynical British marketing ploy. By getting a collection of supposed "trade deals" with individual states, the British are attempting to sell BREXIT at home while building momentum and a case for a real trade deal. They are aided by American politicians of both parties who see their own P.R. potential in announcing a "feel good" "trade deal" without realizing the consequences.
The U.K. recently concluded a "trade deal" with the State of Washington. U.K. trade minister Nusrat Ghani said, "Florida is next on the list. That should be concluded shortly."
A win in Florida would give the U.K. tremendous momentum, but a loss would be seismic and deliver a clear message that injustice in Ireland has consequences. We are reaching out to all Florida Hibernians to contact their Governor to express their belief that callous injustice in Ireland should not be rewarded.
Neither the U.S. nor its states should reward the rejection of fundamental human rights in Ireland with a "trade deal." We should not give something to Britain that we would withhold on human rights grounds if it were any other nation. Turning a blind eye to injustice is not the friendship of a "special relationship"; it is being an accessory in a crime.