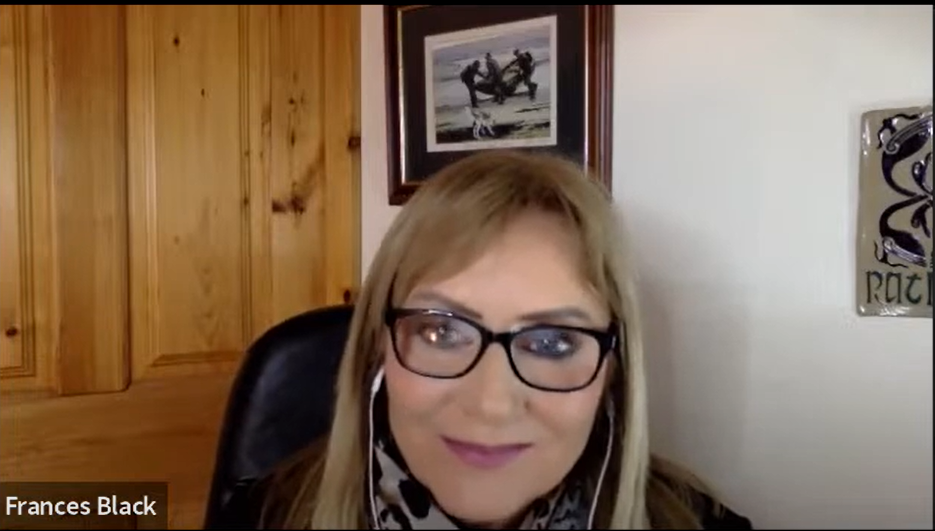 Senator Frances Black, the chairperson of Ireland's Future, described as a driving force for a border vote under the Good Friday Agreement(GFA), told Irish Americans 'we need you behind us' to get and win referendums for a United Ireland. She was joined by fellow Board Members Professor Colin Harvey and Andree Murphy in the live webinar program, IRELAND'S FUTURE-IRISH AMERICA'S ROLE, hosted by the Ancient Order of Hibernians (AOH). The event, a follow-up to recent major conferences in Dublin and Belfast, was timed to coincide with the anniversary of Ireland's historic Declaration of Independence made on January 21, 1919.

AFRAID TO SPEAK

One of Ireland's most popular singers now also an Independent Senator, Frances Black, spoke about why she as an entertainer and native of Dublin, joined Ireland's Future and was giving her time to chair the group. Her father had been born in County Antrim, and she had childhood memories of visits to relatives, wondering about why there were so many British soldiers in part of her country. The GFA provided for the reunification of Ireland, based upon majority votes in separate referendums held both North and South, but 'people were afraid to have a conversation about a vote for a united Ireland'.

After being a speaker at an event about Brexit in 2018, she saw that 'people were hungry for a dialogue about what a united Ireland would mean.' Ireland's Future came together following that event. The group maintains that Ireland is moving towards Constitutional referendums and that it is critical to have the necessary advance planning and preparation work for a united Ireland, to avoid the misinformation surrounding the Brexit referendum.

Senator Black said that Ireland's Future had become a 'driving force' for Constitutional change to a united Ireland by holding public events, drawing huge crowds and nationalist political party leaders. However, she said 'Ireland's Future needs Irish America to get behind this work. Our politicians and the British government listen to America and we need Irish American help. Irish America played a key role in getting the GFA and you are crucial to us now'.

NO BYSTANDER
Professor Colin Harvey, heads the Queens University Belfast, Human Rights Centre and served as a former Commissioner on the Northern Ireland Human Rights Commission. A Derry native now living in Belfast, he said he joined Ireland's Future 'because he was not going to be a bystander at a major moment in Irish history. I have always been committed to Irish reunification. I wanted to play my part'.

The GFA recognizes that Irish people have a legitimate right to aspire to and advocate a united Ireland, but Professor Harvey has been subjected to threats and attempts to intimidate him. Asked about his reaction to loyalist threats, given the fact that civil rights lawyers Pat Finucane and Rosemary Nelson were both murdered by loyalists, he said, 'it goes with the territory. We cannot let ourselves be derailed or distracted.'

Professor Harvey said that 'while some Unionist politicians might refuse to discuss having a referendum or talking about their place as equal citizens in a united Ireland, other Unionists, especially members of the business community, are willing to talk seriously'.

He made a special plea for American pressure on the Irish government to press the British to announce a referendum, asking 'how can we put pressure on the British government if the Irish government is not taking it seriously enough to put on the agenda for British Irish conferences?'

CONGRESSIONAL LETTER

Journalist and political commentator, Andree Murphy, cited Legacy justice, and Brexit, as prime examples of Westminster making laws to serve English interests, regardless of the impact in Ireland. The British have announced they will advance their Northern Ireland Troubles (Legacy and Reconciliation) Bill to parliamentary committee this week. The amnesty bill would remove all effective legal channels to get truth in legacy cases and is being moved forward despite opposition from all political parties in the six counties.

She noted the recent death of campaigner Jim McCabe, whose wife Norah was shot and killed with a plastic bullet after Joe McDonnell's death on Hunger Strike in 1981. The British claimed she was killed during a riot. Canadian television footage showed there were no street disturbances, but no one was brought to justice. Jim McCabe is simply the latest victims' relative who died without ever seeing justice for a loved one murdered during the Troubles.

Now the British government wants to shut down justice for everyone. She called the amendments which were supposed to improve the bill an 'absolute insult.' Families who have been waiting for inquests for decades may now never see one.

Ms. Murphy said that 'Irish America was the only hope that victims' relatives have for justice because the British have ignored the Irish government, all six County political parties, the United Nations and Europe. The British worry about America and Congressional protest that show the strength of Irish America'.

IRISH DECLARATION

During the webinar, Hibernians posted the Irish Declaration of Independence, which was issued by the First Dail Eireann or Irish Parliament 104 years earlier. There representatives chosen in a 32 county election, declared Ireland's right to national independence. Instead Britain partitioned the country. Ireland's Future is seeking to fulfill that declaration.

The webinar has already attracted one of the largest viewings hosted by the AOH, with a growing number of views daily on YouTube. A number of Irish-American organizations supported the program including the Irish American Unity Conference, Brehon Law Society, Irish Northern Aid, 1916 Society and Ladies Ancient Order of Hibernians".