Major Degree Schedule
Major Degree Teams
Major Degree Team Form
The main purposes of our degree program are: "Waken a pride in the ancient race of our forefathers and develop an interest in the history and destiny of that race".
The Rituals and Degrees of the AOH are an important component of who and what we are as an organization. While it is essential for us to urge our members to take the Major Degree, it is also incumbent on us to assure that the Degree Teams themselves are available to perform this service wherever required. During the first week of September I mailed a Degree Team Profile form to be completed by each of our teams. My purpose was to ascertain which teams are currently active, as well as to update contact information for all teams.
The teams are being listed below in the hope that counties, states, and regions will now start to plan for Major Degrees in their respective jurisdictions.
Whenever the Major Degree is performed, in addition to the qualified candidates for the degree, we also welcome and encourage Officers, Sponsors, and all Major Degree Members to observe the candidates learn the Lessons and take the Test of Our Order, in accordance to our laws. Candidates and observers alike should be informed, that proper dress code is in order (no sneakers, shorts, tee shirts, etc.), so that the ceremony is conducted in the dignified manner that it deserves.
---
Major Degree Schedule …
---
Major Degree Teams …
Brian Boru MDT – Virginia
Contact: Brian Kiernan <bri1v1@comcast.net>
10809 Whitaker Woods Road
Richmond, VA 23238
804-467-9287
Cu Chulainn Celtic Warriors MDT – New York, Staten Island
Contact: Mike McGroarty <mikemcgrrty@yahoo.com>
253 Malvine Avenue
Staten Island, NY 10309
646-533-1495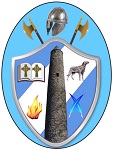 Innisfail Major Degree Team – Florida, Hernando Co., Div. 1
Contact: Brendan Kelley <Kelly.bp@gmail.com>
18916 Pampass Grass Lane
Lutz, FL 33588
Home: 813-501-8487
Cell: 602-315-1535

Isle of Erin MDT – Eastern Pennsylvania
Contact: Jack Schneider <Jack1515@aol.com>
118 Magdalena Lane
Lansdale, PA 19446-1664
215-361-3327
Schenectady MDT – New York, Capitol District
Contact: Owen Cole <omcole54@gmail.com>
738 Swaggertown Road
Scotia, NY 12302
Home: 518-399-1269
Sons of Milesius MDT – Ohio, Columbus
Contact: Pat Visel <Ddanaan@gmail.com>
59 Franklin Park West
Columbus, Ohio 43205

Tara Court MDT – New York, Suffolk Co.
Contact: Jeff Nisler <jeff.aoh@nisler.com>
33 Corlett Place
Huntington Station, NY 11746
631-385-2425
Tri Abhainn MDT – Western Pennsylvania
Contact: Denny Maher <dnkpgh@comcast.net>
245 Tech Road
Pittsburgh, PA 15205-1737
Home: 412-922-5901
Cell: 412-849-9033

Saint Columbkill Knights Major Degree Team (MDT) – Bronx Co. New York – Status: currently re-organizing
Contact: Aidan O'Kelly Lynch aidanlynch@opotonline.net
106 West Chester Avenue
Buchanan, NY 10511
914-293-7497
Round Tower MDT – Status: currently re-organizing
Contact: Jerry Callaghan
44B Jennifer Place
Staten Island, NY 10514
917-582-7171
In addition, the National Board would suggest that any counties or states that might presently be considering
starting their own teams contact Jack Schneider <Jack1515@aol.com>, the Chairman for Rituals and Degrees.
Jack will be happy to provide assistance and direction on forming a new team.
---
Major Degree Team Form
Major Degree Candidates Report 7/15/2018 (always use the latest form)

For use by Degree Team Secretaries only
May submit by US mail to:

AOH National Office
PO Box 539
West Caldwell, NJ 07007

May submit by e-mail to: